Palm Sunday
1st April 2012
V. Rev. Nicholas J. Irwin, P.P. – V. Rev John J. O'Rourke A.P.
056 8834855 & 086 3298060 – 056 88 34128 & 087 2370899

All Masses from Gortnahoe & Glengoole Churches
are broadcast on 106.6 F.M.

Defribulator contact numbers are 086 7749521 or 086 7749713

Morning Masses
Gortnahoe: Monday, Tuesday & Wednesday at 9.30
Glengoole: Monday, Tuesday and Wednesday at 9.30
Area Mass
In Ballynonty on Monday night. Confessions 7.30. Mass 8.00.
Gortnahoe Folk Choir
Practice for the Easter will be on Wednesday 4th April from 7.00 to 8.00 in Gortnahoe Church. All singers please attend.
Family Mass
The family Mass for April is on this Sunday 1st April in Glengoole at 10.00 and Gortnahoe at 11.15. Theme: Celebrating Holy Week
Confessions
After Mass on Monday, Tuesday and Wednesday and on Wednesday night in Glengoole at 7.00 and in Gortnahoe at 8.00.
Holy Communion for the sick & Housebound
Fr. Irwin and Fr. O'Rourke will visit all the usual people with Holy communion on Tuesday next, starting after Mass. They will be glad to bring Holy Communion to anyone else unable to be out for the Holy Week and Easter. Please let them know.
Holy Thursday
Mass of Chrism in Cathedral, Thurles at 10.30. You are invited to this special Mass for the archdiocese.

Mass of the Lord's Supper in both churches at 8.00. Please bring your Trocaire contributions in notes rather than coin, if possible. Procession to the Altar of Repose at the end of Mass. Confessions after Mass. You are invited to Holy Hours in Gortnahoe from 10.00 to 11.00 or Glengoole 11.00 to 12.00.

No Eucharistic Adoration in Gortnahoe on Thursday.
Good Friday
Day of Fast and Abstinence. Ceremonies in both churches at 3.00, including The Passion, Adoration of the Cross and Holy Communion, Stations of the Cross in both Churches at 7.30. A Collection for the upkeep of the Holy Places will be taken up at both ceremonies. Confessions at the end.
Holy Saturday
Confessions in Glengoole at 12.00 and Gortnahoe at 12.30.
Ceremonies and Easter Mass at 9.00 in both churches. No Mass at 6.30 or 7.45.
Easter Sunday
Easter Masses in Glengoole at 10.00 and Gortnahoe at 11.15
Fr. Joe says thanks
Thanks from Fr. Joe to Fr. Irwin & Fr. O'Rourke and to all the organising teams and everyone involved who attended my farewell night. Thank you so much for all your kindness and support, presents and good wishes – Fr. Joe.
Priests Collections
The Easter Collection for the Archbishop and priests of the diocese will be taken up on Easter week-end. Each household is asked to assess themselves and make the quarterly contribution based on their income. A guideline was enclosed with the packet of envelopes in January. We depend completely on the generosity of parishioners to pay their Easter dues as outlined on the guidelines. We ask the usual collectors to kindly attend.
Lotto
No winner of the € 7,200 Jackpot on 29th March. Numbers drawn were 1, 7, 13 & 29. Lucky Dip winners were Thomas Nolan, Alice Purcell, Urard, Joan Bourke, Gortnahoe & Marguerite Meighan, c/o Jimmy Meighan. €25 Sellers Winner was Emma Stanley. Next Draw 5th April at Mary Willies for Jackpot of € 7,400.
Grange Development
Annual Rubbish Collection on all roads leading into the village of Grange will take place on 2nd, 3rd & 4th April. Please help.
Gortnahoe-Glengoole Building Project in Albania and Heart to Hand can be supported by leaving unwanted clothes at the Clothes Bank in Ballysloe.
Bingo on Good Friday
Good Friday Bingo, 6th April, with €2,500 prize money plus bonus prize and Easter eggs. Support will be appreciated.
Cake Sale
The Millennium Family Resource Centre will hold a Cake sale after 10.00 Easter Sunday Mass outside Glengoole Church Your support and donations of cakes etc. Most welcome.
Community Games
Well done to the children who represented Gortnahoe-Glengoole in the County Art, Handwriting and Cross Country. Congratulations to all prizewinners.
Pray for the following
Martin Fennelly, Boulick, who was buried during the week.
Paddy Maher, Gortnahoe.
Anniversary Mass Saturday 31st at 7.45.

Ann Kitchener, nee Lawlor, Reading, formerly Urard.
Anniversary Mass Sunday 1st at 11.15.

Easter Masses offered for the intention of all parishioners
Patrick, Mary & Paul Raleigh, Glengoole South & U.S.A.
Anniversary Mass Saturday 31st at 6.30.

Michael & Margaret Mulhall, Mellison.
Anniversary Mass Sunday 1st 10.00.

Easter Masses offered for the intention of all parishioners
Holy Week Prayer
God our Father, may we receive your forgiveness and mercy as we celebrate the passion and death of Jesus. Amen.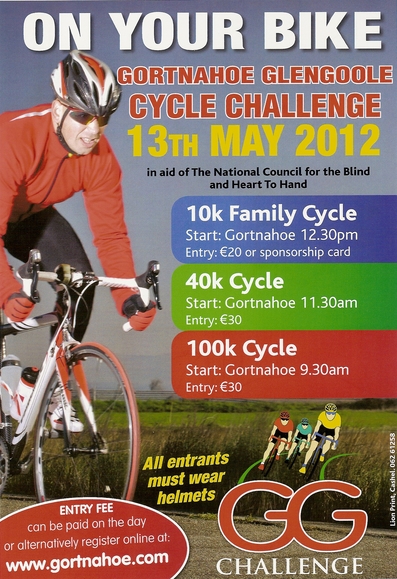 Parish Newsletter Publishing for each week